ARTWORK PACKING/CRATING, TRANSPORT & INSTALLATION
FINE ART PACKING & SHIPPING
RELO MAKES FINE ART CRATING, TRANSPORT, AND INSTALLATION SIMPLE
Relo Solutions Group is the go-to choice for moving companies, relocation companies, art galleries, auction houses, museums, real estate agents, national retailers, and homeowners for years to provide expert packing and crating services. Our nationwide network of service technicians and experienced white glove movers can handle any size project and the work is guaranteed to your satisfaction.
We offer end-to-end fine art relocation services and specialize in fine-art packing/crating, shipping/transport, and installation.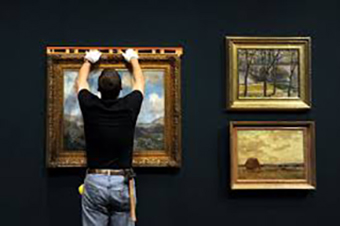 Fine Art Packing and Crating
We know your artwork is valuable and needs to be treated with care. Using moisture vapor barrier foil bags, our shipping process ensures sensitive pieces remain intact and moisture free. We also utilize acid-free foam lining and paper in our crates to further protect your fine art pieces. Offering custom crating services ensures that your artwork is protected during the move. We utilize a network of skilled and experienced carpenters to design custom crates for your pieces. Also, our high-quality packing and crating materials help protect your fine art pieces whether you're moving down the street or abroad.
Transport
We specialize in fine-art moving services in New York, across the country, and internationally. And Relo Solutions only works with vetted moving companies that have proven experience transporting fine art. Our art-handling logistics specialists will work closely with you to understand the details of what you are shipping. Then our specialists will design a custom moving plan to get your high-value and antique art safely to its destination – within your time frame, and on budget.
Installation
Once your artwork is unloaded and brought into your new location, our technicians are trained to properly install it, regardless if you want to maintain your previous setup or if you would like to try a new layout. Our team has the experience, skill, and patience to properly install your artwork whether it's large-scale sculptures, paintings, photograph collections, antiques, mirrors, valuable instruments, and anything else you can think of. From a single painting to an entire gallery, you can trust the experts at Relo Solutions Group.
Fine art requires special care. Whether you are a business buying or selling art, or an artist shipping fine art and sculptures, we can help.
We Are Fine-Art Moving Specialists!
We can help!
Call 844-210-1999 to get a quote today or fill out a quick questionaire and we will send you one.